Beer Line Cleaning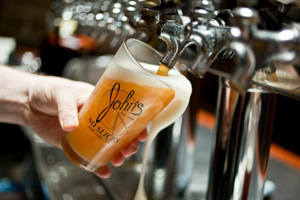 We provide weekly, bi weekly, and monthly cleaning services to all commercial establishments. We use top of the line recirculating pumps, and cleaning chemicals to make sure that your lines are free of all debris. If you are a lucky owner of a home system don't hesitate to contact us for servicing to ensure yourself quality draft beer. Some common signs of dirty draft lines are bad taste, bad smell, bad pouring system, and beer with improper head. To keep a well maintained system we recommend that you have your lines cleaned twice a month.
Why Should You Clean Your Beer Lines?
People don't realize the amount of work brewers put into each individual keg. Sometimes it can take months for brewers to brew and package a single keg. If you aren't regularly cleaning your beer lines, you will quickly develop Bacteria, yeast, mold and beer stone build up. All of these will tarnish the taste of your beer and can cause your draft beer system to improperly pour. If your system hasn't been properly cleaned it could take several cleanings to completely flush out the system. In some cases replacing the line and starting fresh is the best way to go.